Ergonomics (see photos above)
The ergonomics of laptop screens is, by definition, null or inappropriate here.
As far as screen settings are concerned, they can only be made in brightness on the keyboard or in the Apple Menu > System Preferences > Monitor. The settings are minimal but not at all annoying.


What is the Retina display on Apple MacBook Pro 16-inch worth after calibration with i1Display Pro?
So I calibrated a MacBook Pro 16-inch Retina with my i1Display Pro colorimeter.

BEFORE CALIBRATING your Apple notebook - Turning off two display options on your MacBook Pro is essential if you want to properly calibrate your Apple notebook. To do this, go to "Apple Menu > System Preferences > Power Save" and then "System Preferences > Monitors" :
Disable the power-saving option which consists in lowering the brightness of your screen when you are not connected to the electrical network,
Deactivate the "Adjust brightness automatically" option.



Uncheck "Adjust brightness automatically" in "System Preferences > Monitors" on your MacBook Pro 16-inch..





My recommendation!

Once the calibration is done, you can always check these options again if you want to manage your energy consumption as closely as possible, but at least you will have a correct ICC profile.

I chose the following display settings:
I have calibrated this display - like all the monitors and displays I test - with the best current colorimeter with a simply excellent price/performance ratio: i1Display Pro + i1Profiler software (version 3.2.0) in order to be able to situate this new monitor in relation to the monitors or displays on the market. You'll see that the figures are hardly believable if you're still convinced that Apple's panels only look good on a desk!
Color space: no choice! (DCI-P3 by default)
Gamma: no choice! (2.2 by default)
Contrast: no choice!
Color temperature: no choice (6500 K by default)
And as target values in the i1Profiler 3.2.0 software...
Display technology

:

choose white LEDs,

D65

or possibly a little less if you want a slightly warmer screen.

Luminance:

90 cd/m2 or more (160 cd/m2) depending on your main use (print, Web or video) and especially the brightness of your room,

Contrast:

Native for web or video or 287:1 for those who print a lot but ultimately it will depend on your paper,

Gamma: try between 2.2 and 2.4 -

standard curve, (a priori, gamma 2.4 seems more appropriate so to check it, do the test on my dedicated page),

ADC function:

as you wish: try both!


Automatic room light control function disabled.

And the result is ?
First subjective impressions after this calibration of MacBook Pro 16-inch display?
Well it's no longer a surprise on MacBook Pro! It's a perfect screen for any photographer who needs to retouch on the go or shoot in connected mode. The combination of white LED IPS panel, Retina panel, and next-generation P3 gamut works really, really well, displaying subtle grayscales with no tonal breakage and colors with great accuracy on a single panel, too. We are at the level of an Eizo CS2420 if I can dare!
Objective data: what does the final report say after calibration?
Before switching to the Delta E, it is interesting to note the color temperature values achieved and the contrast of this Apple Retina panel.
a) Color Temperature, Contrast and Black Level :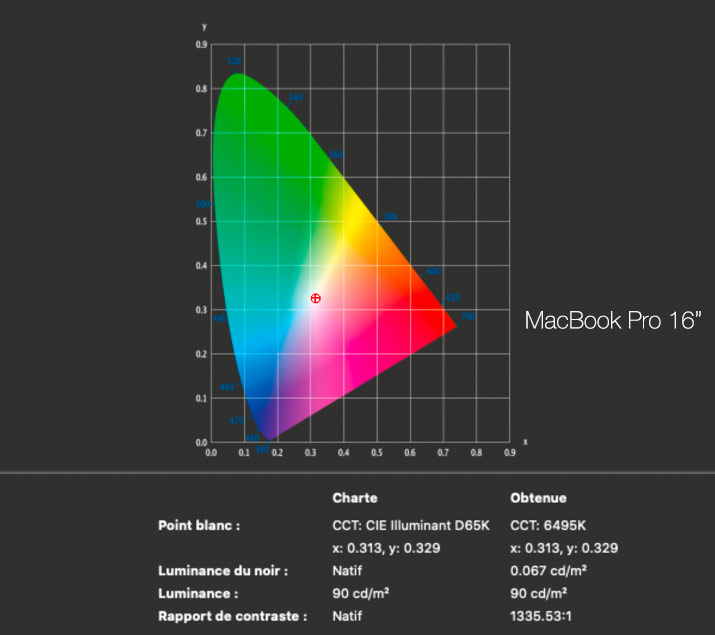 My opinion: Reaching a color temperature (TC) of 6495K for 6500K requested is perfect. This is common on high-end desktop monitors but much rarer on laptops! Note and enjoy! - the 1335:1 contrast measured at 90 cd/m2 on a laptop as well. So you won't have any contrast problems with this display even if it doesn't use OLED technology. Black is one of the deepest blacks I have ever measured on an IPS panel (0,067 cd/m2).
b) Delta e - Now, let's move on to the famous Delta E according to the 2000 standard that I use to calibrate all the screens on this site: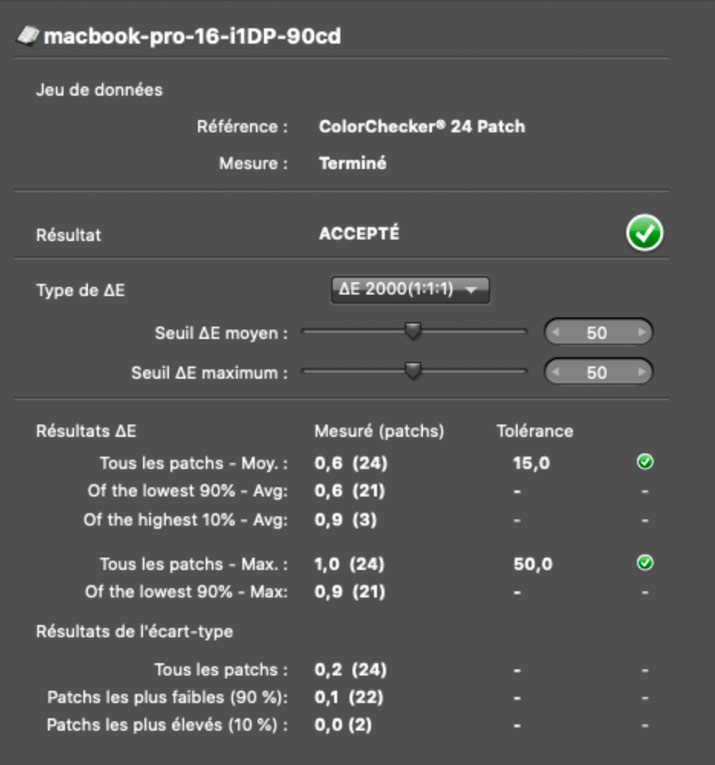 My opinion: The average Delta E standard 2000 is 0.6 and the worst patch has a value of 1.0 (in the same line as the MacBook Pro 15-inch), well below the 2 where the eye can begin to perceive significant deviations! These are values worthy of high-end displays typified by "graphic art" and not of a "common" laptop.
Now the uniformity tests in luminance and color temperature :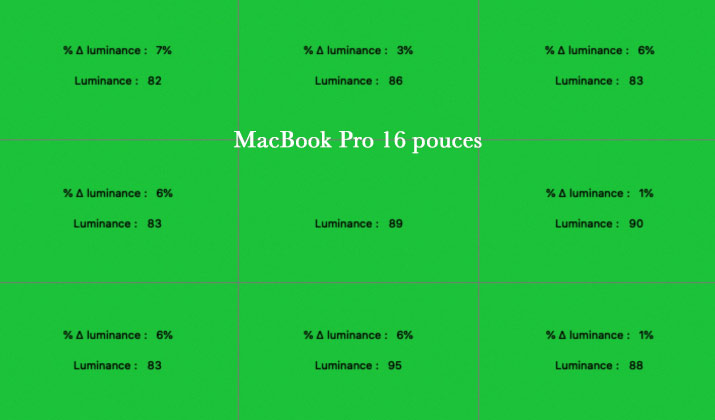 Frankly, getting such values on a laptop screen was a nice surprise when I tested the first 13- and 15-inch MacBook Pro from 2017. Today, with Apple but also with some high-end panels from Dell or Asus, it's becoming "normal". And that's good because it's perfectly possible to work in good conditions on this screen that's starting to get big...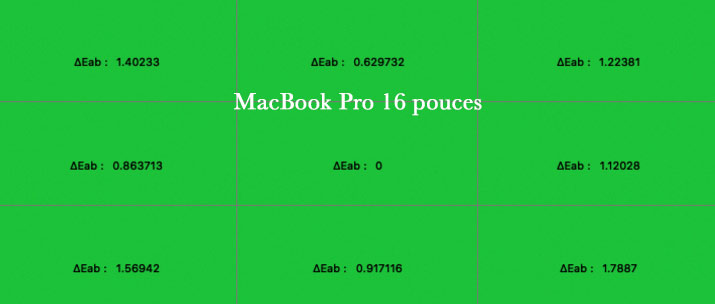 As on the 13-inch, the color temperature uniformity is very good and even the 1.8 delta e on the bottom right will remain invisible to everyone.